In this article, we will be discussing about why you should you learn flutter in 2022. What flutter actually is? Why is it getting famous day by day? What are the unique things that it support and most importantly, why should I learn flutter in 2022? But before that, if you want a complete setup on how to install flutter then click here. So without wasting any more time, let's just get right into our topic.
What is Flutter?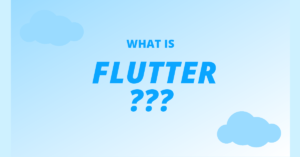 Flutter is an open source which has been created by Google and was released in May, 2017. You can develop multi platforms apps just by using a single code base. It's a cross platform apps development framework. Flutter is already a very popular and popular android app development platform. Flutter app development platform is definitely one of the best solutions Flutter allows users to deliver a fast, beautiful and responsive app that automatically adapts to different screen sizes and device screen resolutions.
In recent trend, there have been many new android apps with flutter technology. Flutter provides a fluid user experience on device and a very good cross platform app development. With the flutter, the app will be able to run on multiple platforms and will provide great responsiveness and speed. Let's get into why should we learn it in 2022.
Why Should You Consider Flutter App Development Platform?
Flutter app development platform provides flutter natively development. flutter provides the best SDKs to use for native development. Flutter is more mobile friendly which is offering fast app development.
Flutter also provides user interface components as well.
Flutter provides cross platform experience. Flutter lets developers create apps across different mobile platforms including iOS, Android, macOS and even Windows 10. This will offer a great boost for the development process.
Flutter provides the best app design experience. Flutter provides amazing and beautiful user interface and usability. Flutter also provides large number of components to create app which will be very easy to make.
Flutter provides a comprehensive Android SDK. Flutter also provides great support for services, the Dart programming language and templates for creating beautiful UIs.
Flutter is an app development platform for beautiful and responsive apps. Flutter provides a platform with all the capabilities to develop different apps. Flutter has an advanced set of tools to build native, hybrid and web apps.
Flutter has a very flexible and simple architecture. Flutter provides a set of tools for building apps with responsive layouts.
Flutter has a great set of tools to build apps with different platform like iOS, Android, macOS and even Windows 10.
In recent trend, flutter is considered to be a solid choice for mobile app development. It provides a great mobile experience for Android app development. Flutter app development platform will definitely save you lots of time, money and effort. It also helps you to build the perfect Android app in a very short time span.
Flutter provides a great and easy to use platform. You will definitely get a quick time to market. For example, it has a clean and consistent user experience with flutter.
Flutter allows you to build mobile apps, without the need to learn a new programming language. You can easily build any android app with flutter.
Flutter makes it possible to get multiple updates.
Stable Flutter Web
Flutter support for web is now available, which means you can make a version of your app in a webpage that is live in internet, let's take Spotify as an example, if you open its website then you won't be able to listen to soundtracks. It's more like an informational content that is displayed on the website.
Spotify has a web app that feels like the same as its website, it's like you are still on its website, but in it you can listen to sounds there. This is what flutter web can do for you. You can see a live version of your mobile app in the flutter web by taking the content of the actual app and showing it on the website.
Desktop Support In Flutter 2022
Support for desktop apps is now available using flutter, which mean you can use a flutter code base and make native windows, macOS or linux desktop apps. Flutter desktop also has support to flutter dart plugins, you can use these plugins in your windows, linux and macOS platforms. There are a lot of powerful flutter packages to be used in your flutter app.
Flutter windows is fully supported to be used at its best, but linux and macOS are still in its beta versions. We would highly recommend you to use the beta channel as for now regarding linux and macOS.
Platform Adaptive
One of the best thing about using flutter is its single code base usage for building multi platform apps. It means just by using a single code, you can develop an android, IOS, web, desktop apps etc. You don't have to code for android in one language and to build IOS apps  use another. You can use just a single code base to develop both of them. It's super helpful when you are the only one working on a multi platform project. You just need to have expertise in flutter and start building multi platform apps using a single code base.
Really Simple To Learn
Flutter is really very simple to learn and understand, you can make beautiful design UI in flutter easily and effectively. You can have a full control over every inch/pixel of the app's screen, you can customize UI according to your requirements, it is very flexible. You can see more beautiful packages that you can use in your flutter apps and its continuously growing.
Very Good Documentation
A good documentation is a very important part for a new technology. The users can read and learn a lot in understanding the features of its product. Flutter provided documentations are by far very good. If the user gets stuck in something then a good documentation helps them a lot.
Flutter Growing Community
Flutter's community is growing day by day. It really helps the developers who may be looking for something and can find the specific feature's code in the community. Flutter awesome is a very cool website that have a lot of cool flutter libraries and tools. Medium is also a very good source in which developers share their articles on flutter widgets, templates, info about flutter, tools etc.
Increasing Freelance Work
Flutter is growing fast and with that the hiring for it also increases. In 2022, clients are now hiring flutter developers to build cross platforms apps for them using flutter framework. With that, more developers are switching to flutter to build beautiful apps and get some freelance work in that.
Benefits Of Using Flutter
Flutter provides the best app user experience. This is like the operating system for android. Flutter lets you create apps for your brand. Flutter helps you to build apps across different platforms and the fastest. Flutter provides a brilliant set of components to create app that are responsive and beautiful. If you are planning to make android apps then you should try flutter.
The good thing about Flutter is that it is going to be very effective for web as well. Flutter gives a possibility to create smooth and elegant mobile apps. It helps you to get your business or any commercial app on your web. Flutter makes it possible to build apps on both Android and iOS. The best thing about Flutter is that it comes with a rich set of components and tools that are connected to each other.
Note:
That's all for this article, hope you enjoyed it and have learnt a lot from it. Implement it in your code and share your experience with us. We would love to see how you have used it in your flutter app. We would be looking forward for your response. Hope to see you in our next articles in which we will dig deep into other amazing widgets. Thanks.
Flutter app articles you might like to read: beautiful gradient login UI, Dart Vs JavaScript, flutter login UI form, flutter basics for beginners, explanation of widgets in flutter, flutter architecture, flutter vs native, flutter sliverappbar customization, mobile app marketing tips, flutter bottom navigation bar, flutter appbar actions, flutter appbar title center, why learn react native framework, react native jobs, react native elements, unique flutter development.
You might also like:
How to Choose the Right React Native Elements for Your Next App- 2022 Guide
Why Should I learn React Native Framework In 2022
Flutter App Development In 2022: Future of Mobile App Development?
Flutter App Development In 2022: Future of Mobile App Development?
How to make your first app with flutter?
Hero Animations In Flutter App With Example-Beautiful Flutter Animations In Dart Language
Flutter Vs Android Studio: Which Is Better For You In 2022?
Best Practices For Creating Flutter Cross Platform App In 2022
Flutter App Framework: The Future of Mobile App Development 2022?
Why Flutter Is Used For Cross Platform App Development-2022 Guide