In this article, we will explore what to expect from Flutter in 2022. We'll take a look at the current state of Flutter, what features are expected to be released in 2022, and how businesses can benefit from using Flutter. We will also discuss 15 benefits that you can get by using Flutter. Click here to understand Flutter and Dart in detail. To give you a strong understanding of the state of Flutter today, we'll first look at where it came from and how it got to where it is today. After that, we'll look into the future of Flutter and what to expect from it in 2022.
Why Should You Use Flutter?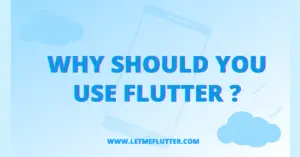 It's not easy to pick a mobile app development framework out there. It is a very competitive market and Flutter has a lot of great competitors. If you want to learn about mobile app development, you have to pick a framework that will help you get started. Flutter is one of the best options for that. It is easy to use and learn. It has a large community, which can help you get answers to any questions that you may have. It also has a large number of tutorials and documentation. If you are looking for an easy-to-use framework, Flutter is worth checking out.
What Are The 15 Benefits Of Using Flutter?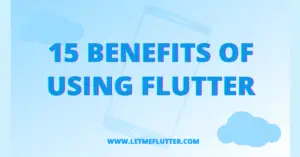 Flutter is a cross-platform framework. It works on both Android and iOS. Flutter provides the following benefits:
Easy To Use
Reliability
Code Sharing
Reusability Of Widgets
Easier Cross-platform Development
Development Speed
Easier Maintenance
Explicitly Synchronized
Faster
Easy To Understand
Open Source
Simpler Interface
Better Performance
Developer Friendly
Adaptive Design
1. Easy To Use
You don't have to learn about the underlying operating systems. You can focus on UI development. It gives you a familiar environment, where you can create apps for both Android and iOS with ease.
2. Reliability
Flutter is relatively new and it does not have a huge user base yet. It is still new, so it has not been tested thoroughly. But, according to the available data, the framework is reliable.
3. Code Sharing
Flutter allows to share code between Android and iOS apps. You can reuse the same code in both platforms.
4. Reusability Of Widgets
Widget is the most common construct in UI development. Flutter has widgets that are easy to use and reusability of widgets makes it easier to develop.
5. Easier Cross-platform Development
Cross-platform development is easier with Flutter. It improves the efficiency of the UI development and allows for better performance.
6. Development Speed
It is not necessary to wait for a long time when developing apps. Flutter provides instant feedback.
7. Easier Maintenance
It is easy to maintain apps that are developed with Flutter. You can reuse the same code for both platforms. Flutter is a mobile development framework for building high-performance, high-fidelity cross-platform native apps.
8. Explicitly Synchronized
It is easy to synchronize the app data and the widget data. Flutter doesn't require synchronization between the UI thread and the main thread.
9. Faster
Flutter provides faster development and easier maintenance. It is a lightweight framework that is easy to use for mobile apps development. Flutter has a set of components that are well-integrated with each other and so the performance can be optimized at compile time.
10. Easy To Understand
It is easier to understand and maintain the Flutter app compared to native apps. It provides a UI less approach and so it reduces the complexity of the native app development. According to the official Flutter website, it is possible to build a fully functional app in less than 1 minute. The materials and tutorials are available on the Flutter's GitHub repository under the Documentation section.
11. Open Source
The Flutter is available on GitHub under the MIT License. It means that the source code of the Flutter app can be used by anyone to learn, improve and build new apps without any restrictions. The source code is open for contribution and contribution helps in improving the technology.
12. Simpler Interface
The Flutter is designed to give a simple, yet attractive interface. The elements are well arranged and the user can easily navigate through the app. It has an intuitive layout which improves the learning curve of the developer while developing an app.
13. Better Performance
The Flutter application is built to deliver high performance and reliability. The applications are designed with the use of fast code in mind. This helps in reducing the load time while running an app on an Android or iOS device.
14. Developer Friendly
The Flutter is built with a developer in mind and it offers great support to developers. The Flutter supports both Android and iOS, so the developer can easily contribute to both platforms.
15. Adaptive Design
The Flutter app is built with a flexible and adaptive design. This helps in ensuring that the developer can easily modify the layout of their apps. The Flutter supports various platforms and devices which makes it easy for developers to develop apps for multiple platforms.
Flutter is still growing and has a lot of potential. Flutter was the fastest growing framework in 2018, with a compounded growth rate of 1.64x compared to other frameworks in 2018. The Flutter app requires less code as compared to the other frameworks and uses less resources to run. This makes it easy for developers with limited knowledge of programming languages and tools to build apps. The framework's approach to UI development is based on Material Design but with some changes.
What to Expect From Flutter In 2022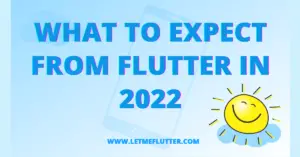 In the past couple of years, Flutter has made many advancements. At its core, Flutter is a framework to build cross-platform apps. It supports both iOS and Android app development. Flutter has been a rapidly growing framework today with a huge following of developers.
What's next for Flutter You might be wondering what to expect from Flutter in the future. It has already made a lot of changes and improvements, so what's next? In 2022, we can expect Flutter to stay very much the same. It will still be a great, modern mobile app development framework. By then, it is expected that app developers will use both the React Native and Flutter to build apps for their Android and iOS platforms. However, Flutter is expected to have more features and new types of apps that can run on the framework. It will continue to grow and improve in the future. Click here to read which is better among Flutter and Ionic framework.
The Future (2022)
Flutter has a lot of potential. In the future, the framework will include many more features, and it will have a lot of improvements to make. Let's take a look at some of the new features in Flutter today:
Lightweight Widgets
Flutter has lightweight widgets, which are extremely fast. They are similar to what React Native and Ionic have, but they're much less bloated. The widgets are lightweight because they run in the Dart VM.
Common UI Components
Flutter has many common UI components, like a button and a text field. These components are very efficient because they use HTML templates. They can also be shared across platforms, which helps developers save time and money. The widget has a common component, which fits into the Dart language. This helps developers create more efficient apps.
Dart Language
Flutter is written in Dart, which is a programming language created by Google. Dart is similar to JavaScript and has many similarities to other languages such as Python and Ruby. It's also similar to C++ but it runs in the browser. Flutter uses a programming model that is similar to the Model-View-Controller (MVC) architecture. The Dart language does not have classes, and everything is an object. The Dart VM provides a JavaScript-like environment for creating apps. Flutter has a built-in widget library that is similar to HTML and CSS. This helps developers create efficient apps.
Flutter Desktop Support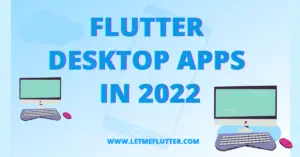 It is available from the Flutter team, and is currently in beta. It is designed to help developers build native mobile apps for iOS and Android. It provides a desktop environment that works with the Flutter SDK for Dart, so it can be used in any IDE. It runs on Windows, Mac and Linux. The beta version is available on GitHub.
Flutter IDE Support
Flutter Native Support is available from the Flutter team and is in beta. It allows developers to write apps that are native. It currently supports iOS, Android, and Windows Phone apps. Flutter is compatible with existing iOS and Android APIs.
Flutter's primary focus is to support the mobile web, but not to replace native applications. Flutter has been designed with this in mind. The Flutter team has a goal of making it easy for developers to create native apps with the same app code. This enables the creation of cross-platform applications that are responsive and fast.
Dart is used for the apps' native components and Flutter's UI layer. Flutter uses the platform-independent web as its UI layer. Dart creates a bridge between the native app and web, making it possible to create powerful cross-platform applications. The Dart programming language, used in Flutter, is the successor to the earlier Dart programming language (created by Google) and the successor to JavaScript.
Conclusion
In conclusion, flutter is definitely a language to watch out for in 2022. With its growing popularity and many benefits, it is sure to become one of the most commonly used programming languages. Flutter is expected to take over the mobile development world in 2022. It is a powerful platform that offers many benefits to developers and users alike. If you are interested in learning more about Flutter or want to start developing with it, be sure to visit our articles in which we have discussed Flutter from the very basic, simple to complex widgets explanation with examples, beautiful templates design with complete source code.  If you want a complete setup on how to install flutter then click here.
Note:
That's all for this article, hope you enjoyed it and have learnt a lot from it. Implement it in your code and share your experience with us. We would love to see how you have used it in your flutter app. We would be looking forward for your response. Hope to see you in our next articles in which we will dig deep into amazing widgets in flutter. Thanks.