In this article, we will be discussing what is flutter and dart in detail. Flutter enable developers to create high-quality, cross-platform apps. Flutter is a new mobile development framework that was developed by Google. Dart is the language that is used to create apps in Flutter. It has been designed to make it easy to create high-quality mobile applications. Flutter also has some unique features that make it stand out from other mobile development frameworks. Let's start discussing both of them in detail.
Outline
Introduction: What is Flutter and Dart?
Why use Flutter?
Dart: Language Features
Flutter: Building User Interfaces
Flutter and Dart Together
Conclusion
Introduction: What is Flutter and Dart?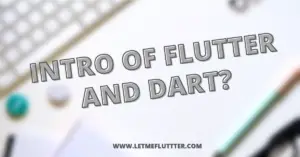 Flutter is a new mobile development SDK created by Google. Dart is a programming language used to create mobile apps and games. Together, they make creating mobile apps faster and more efficient than ever before.
Dart was originally created by Google as a language for creating web applications, but in 2015 it was decided that Dart could be used to create mobile apps. In August 2016, Google announced the official launch of Flutter and Dart. Flutter is an SDK that allows you to use your code written in Dart to create native mobile apps. Flutter is based on the concepts of native mobile app development. Flutter uses Dart to create apps that run fast, are easy to maintain and update, and which look great.
Why use Flutter?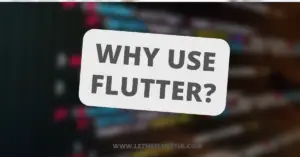 Developing for iOS and Android is a large time investment with a lot of overhead. There are a lot of separate steps required to get an app ready for submission to the App Store or Google Play. This means that it can be difficult to provide updates and bug fixes, and this can lead to your app being rejected from the store. This also means that you have to pay Apple and Google every time your users download an update.
With Flutter, you can use the Dart programming language to write apps that are natively compiled into native Android or iOS apps. This means that you can provide updates and bug fixes, and when your users download an update, the app will be updated right on their phone. There is no need to submit the update to Apple or Google, and it doesn't cost you anything.
You can update your app's version number in the pubspec.yaml file and then deploy the new version right away to your users. By default, Flutter uses Google's Gradle build system.
If you want to use your own build system, then you can specify it in the pubspec.yaml file. Flutter also has a plugin mechanism that allows you to extend the standard build system. You can even write your own plugins for Flutter itself, and you can plug in your own build system if you want to.
Dart: Language Features
Dart is a statically-typed, compiled language. Flutter apps are compiled to native code (on Android, and eventually on Apple's iOS) that runs on the device hardware. This means that Flutter apps are not interpreted, like JavaScript apps.
Dart is a strongly-typed language, which means that types are checked at compile time. Dart is a compiled language, which means that we don't have to worry about managing the JVM or about the performance of our app. This makes it harder to write bugs than in languages where type checking is done only at runtime. This also means that Dart is a much safer language to use than JavaScript. Dart is a very simple language.
Flutter: Building User Interfaces
Building user interfaces in Flutter is simple and straightforward. You can create rich and interactive user interfaces without having to worry about complex coding or handling of state. Flutter is a mobile development platform that enables developers to create user interfaces using iOS and Android development tools. Flutter User Interfaces are designed to be fast, responsive, and visually appealing.
Flutter's popularity has resulted in a large number of Flutter User Interface templates available online. These templates can be used to create custom user interfaces or can be used as a starting point for creating your own customized Flutter User Interface.
Flutter and Dart Together
Flutter and Dart are quickly gaining popularity. Flutter is known for its lightweight codebase and fast development cycles. Dart is known for its powerful library support and easy-to-use programming model. Together, these two frameworks make mobile app development a breeze. Dart is a programming language that compiles to JavaScript. It was originally developed at Google by Lars Bak and it is now being used as the primary language in Google's mobile app development SDKs.
Flutter and Dart both have their pros and cons, together they offer an incredible platform for developing high-quality mobile apps. If you're looking to build a mobile app quickly, without sacrificing quality or functionality, Flutter and Dart are definitely worth considering. Flutter is able to run on all iOS and Android devices.
Conclusion
In conclusion, Flutter and Dart are extremely powerful tools that can be used to create high-quality apps. Flutter and Dart have revolutionize mobile app development. They show a lot of promise and are worth keeping an eye on. Flutter and dart are amazing tools that can help developers create beautiful and responsive user interfaces along with functionality. They are easy to learn and have a large community of developers who are willing to help. If you are looking to create an app, I would highly recommend using Flutter and Dart.
Note:
We hope you enjoyed reading this article and learned lots from it. We're interested to read your feedback. We can not wait to see you again in another article in which we look at beautiful flutter widgets. Last but not least, if you are interested to learn how to setup flutter so you can also start developing beautiful flutter apps then click here. Thanks.