In this article, we will discuss the top 4 famous apps made using flutter framework. Flutter is a mobile development framework created by Google and its an open source. It is built on top of the Foundation Library and offers a fast, smooth, and responsive user interface for both Android and iOS devices. Among the popular Flutter apps, we will be discussing 4 flutter popular apps. But before that, if you want a complete setup on how to install flutter 2022 then click here.
List Of  Top 4 Flutter Apps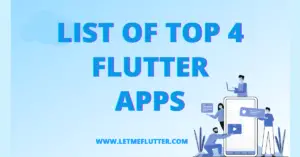 The list of top 4 popular flutter apps is given below:
Google Ads
Reflectly
Xianyu
Hookle
1. Google Ads
The specific concept will be a little more prevalent in your daily life while browsing the Internet. Your searches produce an algorithm that suggests advertisements based on your search history and helps you make unsuitable purchases.
People working in Search Engine Optimization SEO and SEM are knowledgeable about the Google Advertisements platform. It's easy for them to understand it. Flutter from Google was used to create Google Advertisements. The app is consumer-friendly, making tracking campaigns, managing ads, gaining insights, and receiving alerts available to users via mobile devices.
Despite the fact that The Google Federation of ads uses its web application for its ad campaigns, its mobile version is especially handy for on-the-go customers. If you haven't looked at the Google ads program, have a peek at the site. Are you familiar with Google Ads mobile application? It is fast-paced and elegant, and it's also one of Flutter's featured applications on its website.
2. Reflectly
Briefly, an AI-powered health and fitness application, built using Flutter, is among its type for its superb design. It has gone viral on social media for its enjoyable user interface and user experience. After all, your app should favorably resonate with your audiences' needs and requirements and leave a lasting effect on their minds.
This tool enables you to write yourself emotional reflections and mood profiles, a personal journal that caters to your mental health with an attractive appearance, intuitive features, and swift navigation. Managing stress is much easier with your phone. Thus, what the app does is, it asks a few questions on the basis of your answers and then displays an assortment of answers.
With its Flutter integration, Reflectly is popular for creating apps with some efficiency. The Reflectly team effectively integrated Flutter into this popular UI kit, as it aids them in generating some valuable insights. The program runs on both iOS and Android without any difficulties and has a multitude of features.
3. Xianyu
Xianyu, developed by Ali Baba, is an app that specializes in used and preloved products. environment was invoked to develop an app for customers who prefer to look at smartphone devices for their purchases. Flutter established its criteria for creating a application user-friendly and intuitive for developers and that attracts excellent design and tech skills. World's largest electronic commerce, with a huge customer base, produces high volume web traffic, which means they do have some concerns about glitch recovery.
Flutter was an all-in-one platform for handling massive, real-time transactions across numerous platforms. Flutter does not put a limit on the number of users visiting a website unlike React Native, which cannot handle large quantities of traffic effectively.
4. Hookle
Flutter, the tool used to create hookle, is a social media assistant in your app drawer. It helps you publish and schedule your posts on Twitter, Instagram, Facebook, and LinkedIn. You can connect all your social media profiles on one dashboard.
It eliminates the need for you to update content on social networks individually, it helps you reach your audience with ease, it enables you to make a content calendar, plan the strategy of your post, schedule the time to write content that your audience will be interested in, publish content in a single click, stay abreast with useful reminders, and monitor your content performance on every channel. You can view your organic leads' performance measures, like impressions, reach, and engagement, by navigating with Hookle.
Conclusion
In conclusion, Flutter is an up-and-coming platform with a lot of potential. These four popular apps are just the beginning for what's to come. If you want to learn Flutter or want to start developing with it, be sure to check out our articles that describe Flutter in detail, broadly from simple to complex widgets explained through various examples, and beautifully designed templates with source code available in full. For those who have everything set up on how to install Flutter, go here.
Note:
We hope you enjoyed this article and learnt a lot from it. Use it in your own applications and share with us how you use it in your own code. We look forward to your review. We can't wait to see you in another article in which we will look at other beautiful flutter widgets. Thanks.