Flutter is a new mobile development framework that allows developers to create high-performance, cross-platform applications using the same codebase. In this article, we will explore the Flutter architecture in detail and show how it can be used to create sophisticated mobile applications.
Outline
A Brief Explanation of Flutter Architecture
Explanation of the widgets, layout, and paint systems in Flutter
Stateful vs. Stateless Widgets Explanations and Usage
Hot Reloading In Flutter and Benefits
Tips For Customizing your Flutter App
Conclusion
A Brief Explanation of Flutter Architecture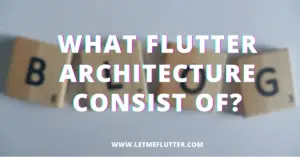 The Flutter Architecture is a modular application architecture where each part of the system interacts with other parts via an event-driven pub sub architecture. Flutter is a new mobile development framework that builds on top of the Android and iOS development ecosystems. It offers developers a more efficient way to create mobile apps by using Dart, which is a programming language designed for developing cross-platform applications.
The Flutter architecture consists of two key components:
Foundation layer
App layer
The Foundation layer provides developers with the necessary tools and libraries to build mobile apps, while the App layer provides fluttering widgets that can be used within an app. The Flutter SDK gives developers access to these two layers via a pub-sub architecture. This allows them to use the widgets and tooling they already know and love on iOS or Android, while giving them the ability to easily develop for both platforms using the same code base. Flutter is designed to be a cross-platform framework, enabling developers to write code once and deploy it on all the major mobile platforms (iOS and Android). Flutter apps are developed using Dart as its primary programming language.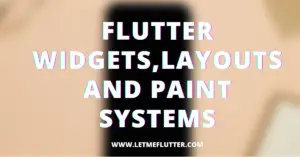 Flutter is a new mobile development platform that uses the Google Material Design global design language. Let's explain the widgets, layout, and paint systems in Flutter.
Widget development in Flutter is a lot like developing with other mobile app development frameworks. There are widgets, variables, and methods you're used to using for Android and iOS development. You create an instance of the widget class, set properties like the title and content, and then attach it to a View. To update the widget's state or appearance, you call one of its methods.
Widget lifecycle In Flutter, a widget lives in the context of a Widget object (or any other object that can host a widget). A Widget has an associated state machine that manages how the widget is updated and rendered. When you create a new Widget instance, its state is initialized to default values. You can update its state by calling one of its methods.
Flutter Layouts
The popularity of flutter has made it a top choice for mobile development. Let's discuss flutter layouts and explain their advantages. First, let's take a look at the layout system in flutter.
A layout is an abstract description of how your app will look on different devices and screen sizes. You define the size of each widget in terms of pixels, and the system handles positioning them on the screen. This makes creating layouts much easier than traditional mobile development frameworks, like Swift or Java.
Key Benefits of using Layouts
1) Layouts make it easy to create consistent designs across different devices and screen sizes. As long as you use standard pixel dimensions, your app will look good on any device with a resolution less than or equal to 1024x768px.
2) Layouts let you control the size and position of your widgets. This means you can create layouts that are perfectly suited for different screen sizes and device form factors.
3) Layouts make it easy to create different layouts for different screens or devices. For example, you can create a layout that is suitable for a tablet and another that is suitable for a phone.
Flutter Paint System
Flutter is a new mobile development framework that uses a new paint system that makes creation of graphical user interfaces easier than ever before. This paints system allows developers to create layouts and components in a more declarative way, which makes creating UI much simpler.
One of the benefits of using the new paint system in Flutter is that it removes the need for platform specific code. This means that developers can write code once and use it across multiple devices without having to modify or re-write it. The Paint system also has support for vector Drawables, making it easy to create complex designs with ease.
Stateful vs. Stateless Widgets Explanations and Usage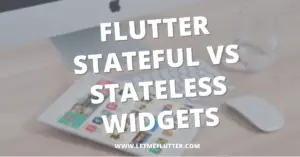 Stateful and stateless widgets are two different types of widgets in the flutter framework. Stateless widgets run without any persistent data, while stateful widgets store data in memory and use it when needed.
When to use a Stateful Widget
If you need to keep track of some persistent data, a stateful widget is the right choice. For example, if you want to keep track of the user's progress in an application, a stateful widget like a Slider would be the best option.
When to use a Stateless Widget
If you don't need to store any data, a stateless widget is the right choice. For example, if you just need to display something on screen, like an Image or TextView , using a simple static resource will work just fine.
Hot Reloading In Flutter and Benefits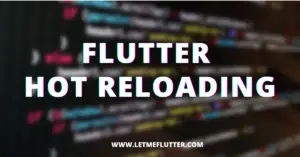 Flutter is a new mobile development platform that offers hot reloading, which allows developers to reload the app code without stopping the running app. This feature benefits both developers and users because it makes it possible to quickly fix errors and test changes without having to restart the app.
Hot reloading works by compiling the app code on-the-fly as you make changes. This means that Flutter apps can run much faster than traditional apps because there is no need to wait for the application to load before making changes. Additionally, hot reloading allows developers to run multiple versions of their code simultaneously, which can be helpful when testing different variations of a solution.
Overall, Flutter's hot reloading feature is an impressive addition that will help speed up development processes and improve user experience.
Tips For Customizing your Flutter App
Customizing your flutter app's appearance and behavior can help make it unique and memorable. Here are some tips for customizing your app's look and feel:
1. Use a Theme or Style Sheet. A theme or style sheet lets you change the look of an entire app using a single file. You can find themes and style sheets for flutter in the Google Play Store or on GitHub.
2. Use Fonts and Icons. You can use fonts and icons to create a distinct look for your app. For example, you could use a font that is themed for a science fiction setting, or use icons that represent important features of your app.
3. Add Images and Videos. You can add images and videos to your app to give it a more visual appeal.
Conclusion
In conclusion, the Flutter architecture is very efficient and easy to use. It is perfect for creating high-quality mobile apps. Developers who are interested in learning this technology should definitely check it out. That's it for this article. See you in our next articles. Thanks for reading this.